Company Profile
HiSC is a "Forefront" IT solution provider.
System integration for broadcast stations
We have a long experience to develop systems dedicated to supporting broadcast stations' operation. Beginning from the new/reform proposal of business analysis and IT service by a consultant to the design, development, verification, implementation, and operational support by our company we perform. We are deeply conversant with broadcast stations' operations, terms, and how to promote their work greater efficiency and productivity. We never say "impossible"; we will propose a realistic and cost-effective method by considering it together with you.
HiSC has such kinds of strength.
Partnership and our philosophy
- Management based on bringing all of us together
Our corporate philosophy is "Create Happiness through Partnerships". We place great importance on partnership and our philosophy, which is a code of conduct for putting it into practice. The meaning and purpose of working at HiSC are to work hard to earn the gratitude and respect from our customers that lead to ultimately achieving everyone's happiness. We believe that the results in life and work = mindset x ambition x ability. It is not an addition, but a multiplication. You will see great results in life and work if you continue to make an effort every day to improve your abilities with high motivation. We all are aware of this and try to do a great job.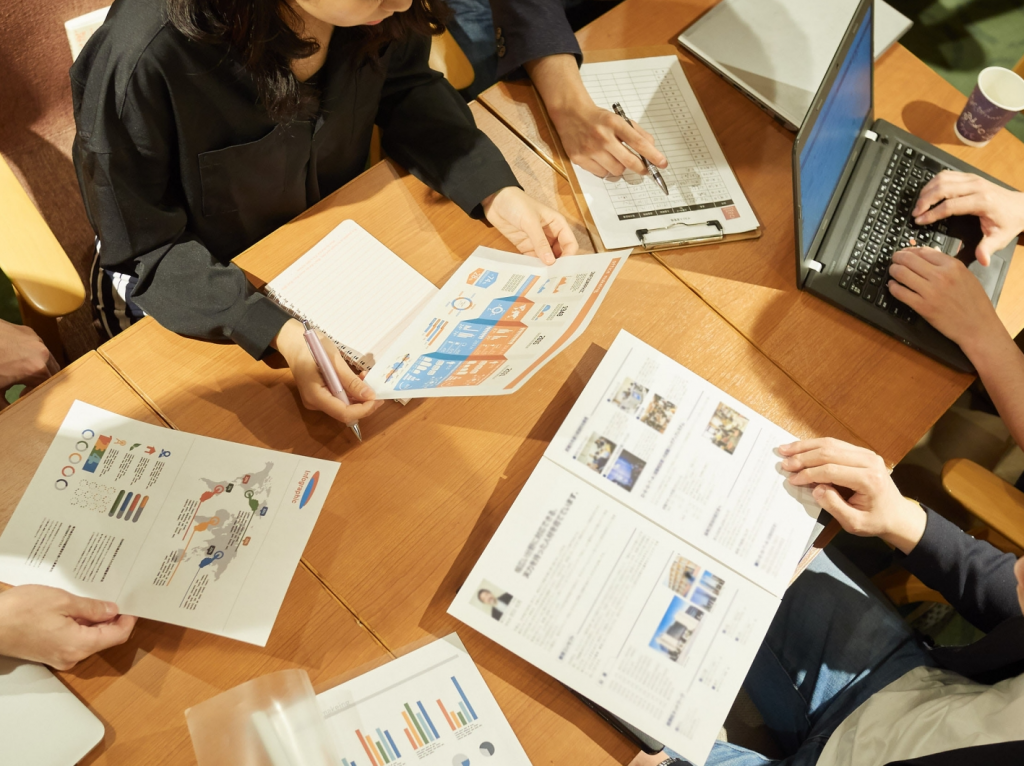 In-house accumulated our technology and know-how
We do not engage in what is call SES (System Engineer Support Services). Customers will use our systems for five or ten years after introduced. However, in the case of large system integrators, the engineers are a temporary team assembled on a project-by-project basis, which we felt that it would be an inconvenience for customers in terms of maintenance support and technical succession. Therefore, we insist on hiring full-time employees and have made an environment where our engineers are responsible for following up with customers after installation. On the other hand, we do not send our engineers to outside companies temporarily, so that they can systematically accumulate know-how about our customers' business, as well as improve their skills over the long term.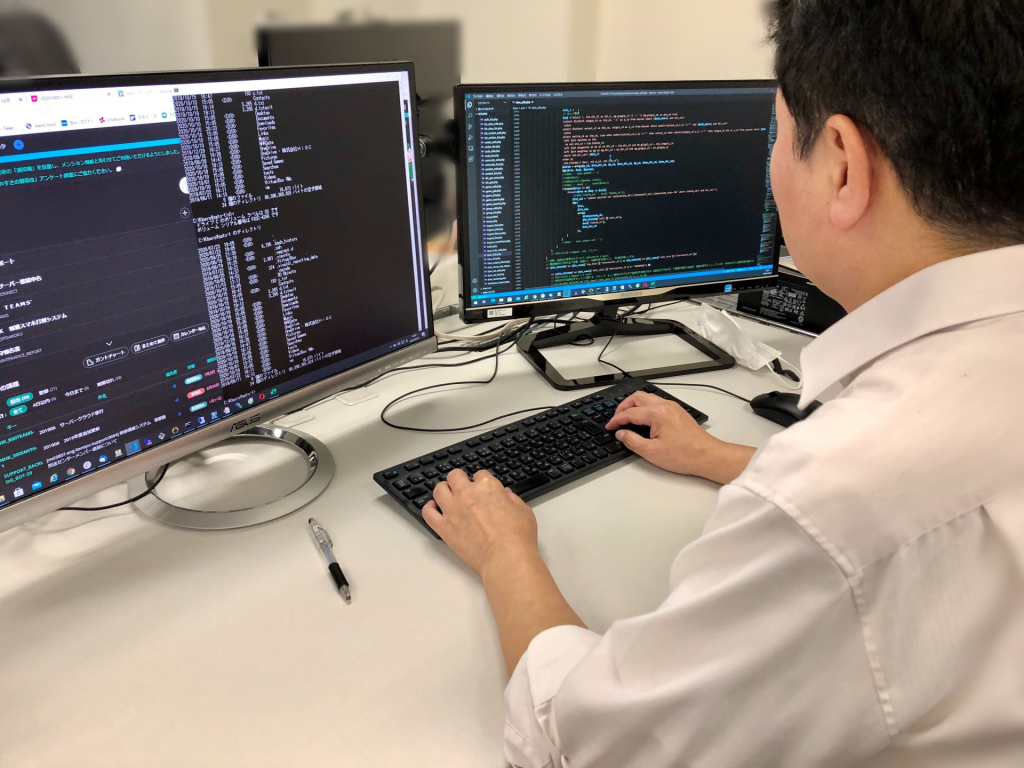 Establishment of ISMS certification
We obtained the certification of an Information Security Management System ( ISMS, ISO/IEC27001: 2013) in March 2016. We believe security must be emphasized more than anything in handling the material information assets of our customers. We will provide further optimal IT services to our customers based on a safe and secure business environment more than ever following the newly established information security policy.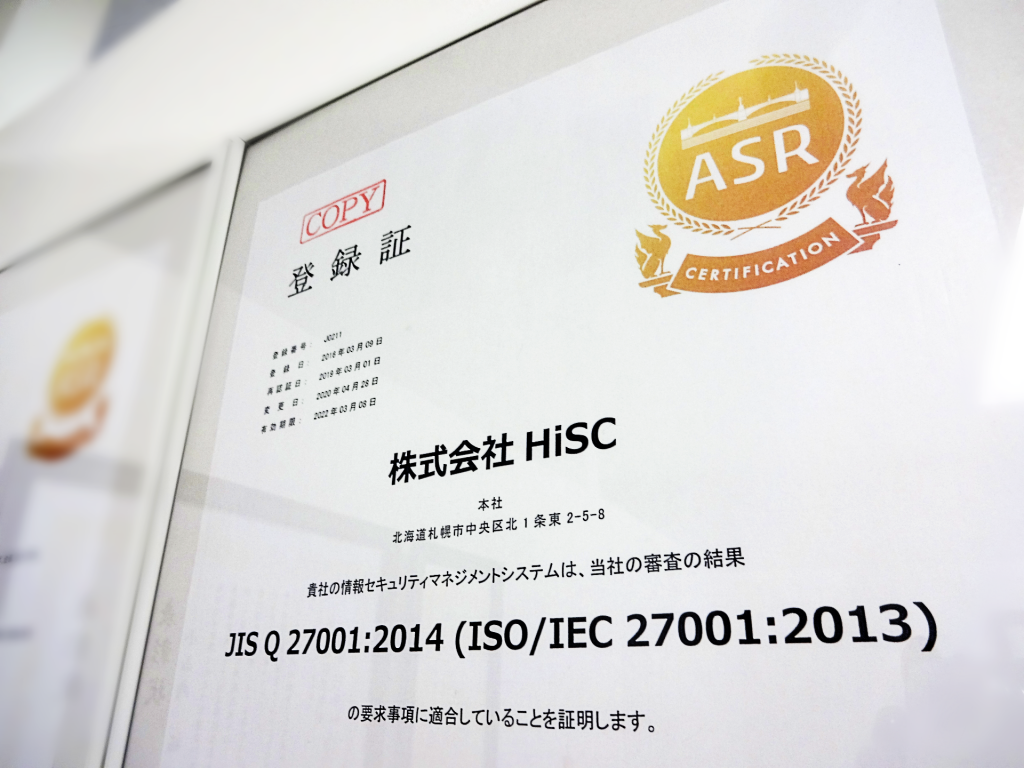 Past and future of HiSC
HiSC Inc. gave its first cry as a private business in January 1996. Although it was incorporated as a private limited company, it was truly a private company with only one person and my home as the headquarters. But now that I have established a company, I must create jobs at all costs; having strongly that thought, I have increased our fellows to work together with us one after another. The fellows working together with us now are true partners that be able to believe and help each other. A lot of things have happened in the 25 years and its full of ups and downs. The deadline was strict and we sometimes stayed overnight in the company. We had heated discussions about the way we worked. There was also a long overseas business trip. The problem for an unknown reason didn't be solved quickly and it shows up in my dream as a nightmare. Perhaps we had  faced many difficulties but our life experience was greatly enriched by it.
I am delighted to be able to run HiSC with so many wonderful colleagues that I could not have imagined at the time of its founding. To develop mutual trust with even if colleagues from apart, we hold monthly information exchange meetings in Sapporo and Tokyo, and even in Tokyo, we also hold an annual meeting in the form of a training camp during the financial year to share and discuss business reports and plans for the coming year. In this way, we are committed to enhancing our internal partnerships to achieve further growth for the company and the physical and mental well-being of all our colleagues. We would like to be a platform where every one of us can work hard together, trusting, and cooperating to enhance our skills and humanity. We believe this is the power to provide our customers with the latest solutions and "Intelligence!".
On March 22, 2025, HiSC will be 30 years.
We would like to thank you for your continued support and encouragement.
Taku Osanai
President of HiSC
HiSC History
<! ========= Cool Timeline Free 2.0.4 =========>
Management Rationale
Create Happiness through Partnerships.
Partnership with employees
Let's cooperate with each other to enhance the technology and humanity
and to achieve happiness in both material and intellectual sides.
Partnership with customers
Let's propose as much as happiness of our customers so as to obtain the
gratitude and respect from them.
Partnership with business partners
Let's cooperate together with our business partners to actually feel
the happiness capable of developing with each other.
Partnership with the society
Let's propose as much as happiness of our customers so as to obtain the gratitude and
respect from them.
Corporate information
Company Name
HiSC Inc.
The company name is derived from the first letters of Human Intelligence and System Consultants
Founded
March 22, 1996
Address
Head Office : 5-8 North-1 East-2, Chuo-ward Sapporo-city, Hokkaido JAPAN 060-0031
Tokyo System Center : 6-4-15-606, Akasaka, Minato-ward, Tokyo JAPN 107-0052
URL
https://hisc.co.jp/
Capital fund
10 million yen
Officers
President : Taku Osanai
Project Promotion Director : Satoshi Koizumi
Outside Director : Hirotaka Hamaya
Certification

Information Security Management System (ISMS)ISO/IEC27001:2013